Latest update: JUNE 12, 2022
This page is a LIVING DOCUMENT, and will be updated as we get closer and closer to our big trip!
FINAL PRE-TRIP MEETING:
6:00PM June 12
MAJOR UPDATE: Covid Restrictions
As of Friday, May 20, at midnight (on the night between Friday and Saturday, May 21), the following guidance will take effect:
It will not be required to present a negative result on a COVID test before boarding a flight to Israel or a cruise to Israel or before arriving at an Israeli land border crossing.

It will not be required to present a negative result on a COVID test before boarding a cruise departing Israel. This guidance is set forth according to the requirements of the Israel Ministry of Health. You are required to inquire the requirements of the company operating the cruise.

The PCR testing mandate for those entering Israel at airports and maritime and land border crossings will be lifted.

It will not require to isolate for 24 hours after entering Israel.

The mask mandate for those entering Israel (who have been required to isolate until receipt of a PCR test result) in airports and maritime and land border crossings will be lifted.
Israel's "Green Pass"
The "Green Pass" is now defunct. While still available online, their website says that it is no longer required at all any more.
---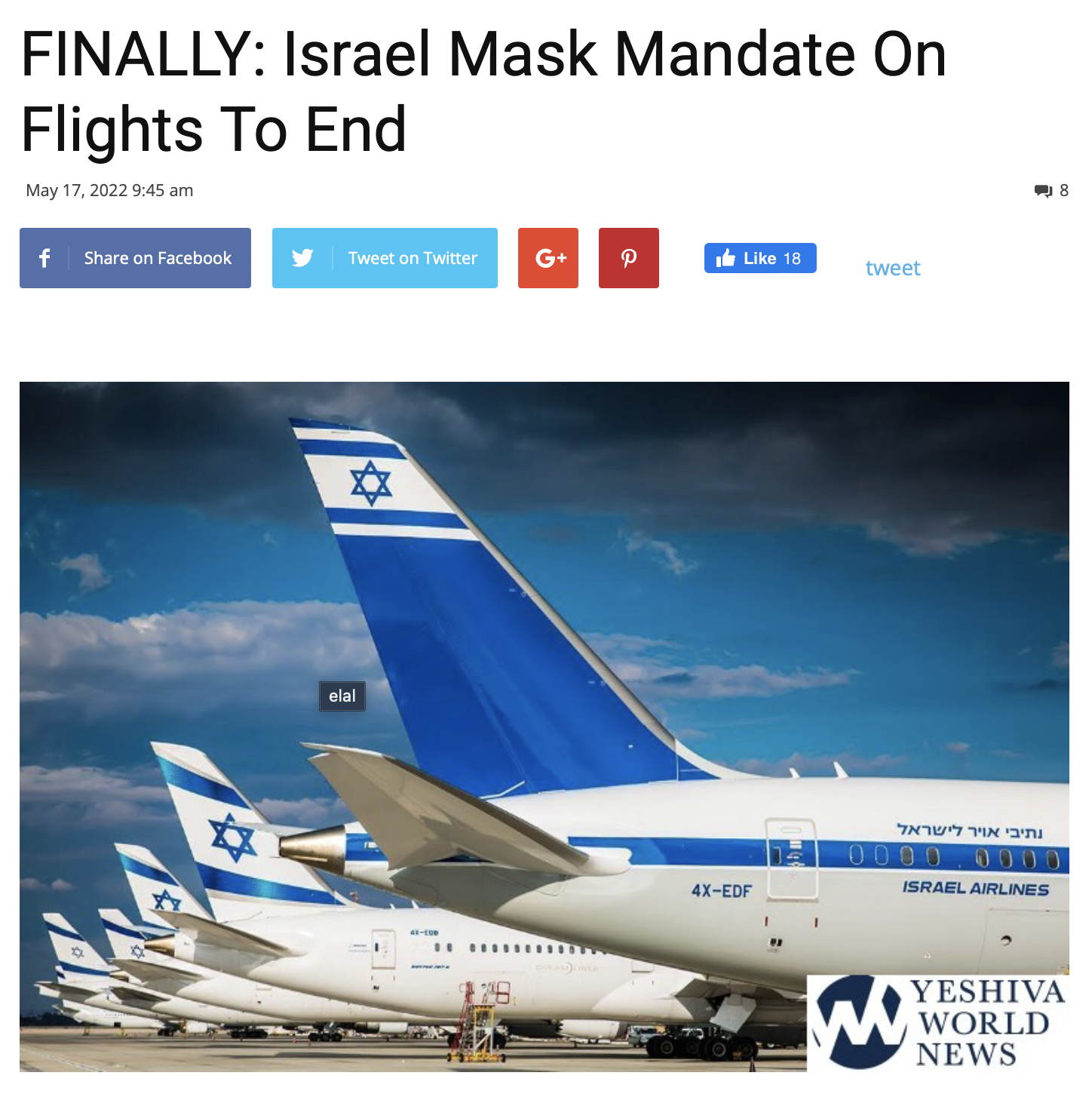 ---
For the past 26 months, air passengers to and from Israel have been required to wear masks.
Today, Health Minister Nitzan Horowitz announced the demise of this policy. Beginning at midnight on May 23 (the night between Sunday and Monday), masks will no longer be required on flights to or from Israel.
Chaim V'Chessed notes that the announcement comes on the heels of the cancellation of Covid testing for air passengers. Hence, the only Covid related travel rule will be the requirement to fill out the online Health Declaration.
---
---
---
---
Airport Arrival
The common wisdom is to arrive at the airport two hours before a flight, but with the size of our group, and the high level of travel on a Monday in June, we will CHECK IN at the American Airlines desk at:
12:00PM June 20
Please park your car and arrive at the terminal with all your documentation and luggage BEFORE our check-in time. If you are going to be late for any reason, please text Sherry Dusek as soon as possible.
Sherry Dusek
706-669-7811
Airport Parking
There are lots of places to park and shuttle to the airport. This is the reservation line that I mentioned in the last meeting.
---
Who is going?
This will be a really fun trip with 29 people currently registered. We're so sorry to lose Roger and Faith Hansen, due to her injury. I spoke with her on the phone, and she is in really good spirits, but has to stay OFF her foot for quite some time. We will be praying for her quick recovery.
Everybody in the group had specific locations or expectations they were looking forward to in this trip, including "walking the Via Dolorosa," "seeing Jerusalem," and "getting baptized in the Jordan river."
I asked everyone to write down their favorite Bible story or two, and to read through that again a time or two before the trip.
---
Travel Insurance
Travelex is Maranatha's recommended insurance provider, and their BEST rates are the ones you get with Maranatha's secret codes (Mine was $187.)
Use the codes below with the link below to get your best rate.
---
---
Location Number – You will leave this 03-0261
Agent Code – Leave Blank
Booking / Invoice number – 220626
Destination – Israel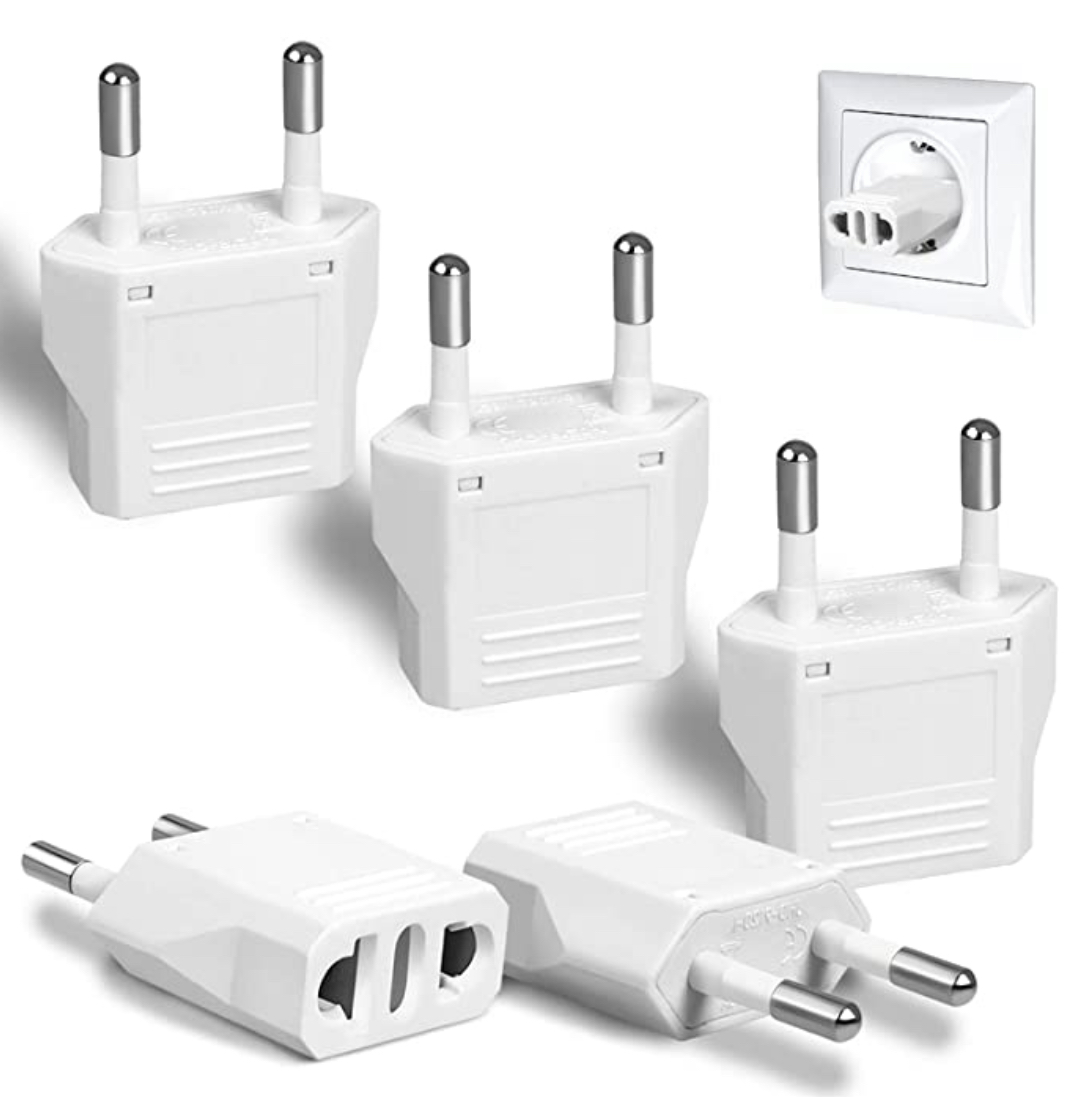 Adapters
Israel uses the round, 2-prong standard. Computers, iPads, cell phones, cameras, battery chargers and other devices without moving parts do not require a transformer… Just a power plug adapter.
Hair dryers and other high-draw devices will require a voltage converter, which is available at Walmart and pretty much anywhere. I found a full-featured one on Amazon, below.
---
Cell Service in Israel
It is always a game whether your service provider will have good service in another country. I have heard from several people now that Verizon has good service in much of Israel. Of course, our hotels will have good wifi, also.
If you want to get a sim card for your phone, you can purchase one in the airport once we arrive in Tel Aviv. If you want to get one ahead of our trip, Maranatha recommends TravelCell, a company that provides sim cards for international travel.
---
Head Coverings and Attire?
The question of appropriate attire during our tour was raised during our meeting, specifically about head, arm, and leg coverings. Here is the word from Maranatha:
Many sites you will visit and many churches will ask for conservative dress. They will ask men to have the legs covered and even at some sites to have their heads covered. (they will have paper caps for the men where needed). They will ask women to have their arms and legs covered and even cover their heads on occasion.
Our guide will advise the evening before, what dress is needed the following day to help prepare us for our day. For women any needed covering can be usually be accomplished with a scarf or two, or a long skirt as needed.
---
What about dinner attire?
This is also from Shay at Maranatha:
It is casual. When you return to the hotel after touring, the guide will let you know when dinner will be. Most of the time it is shortly after arrival. Most people will just drop off their belongings in the room and head to dinner. There is not usually enough time to shower and change. There is no need to dress up. Casual attire is acceptable.
As a general rule wake up calls are 6AM Breakfast is 630-730 AM On the bus 730AM Return to hotel 6PM Dinner 6:30 and everyone is ready for Bed by 8. It is a long day of touring and in the heat it is very tiring.