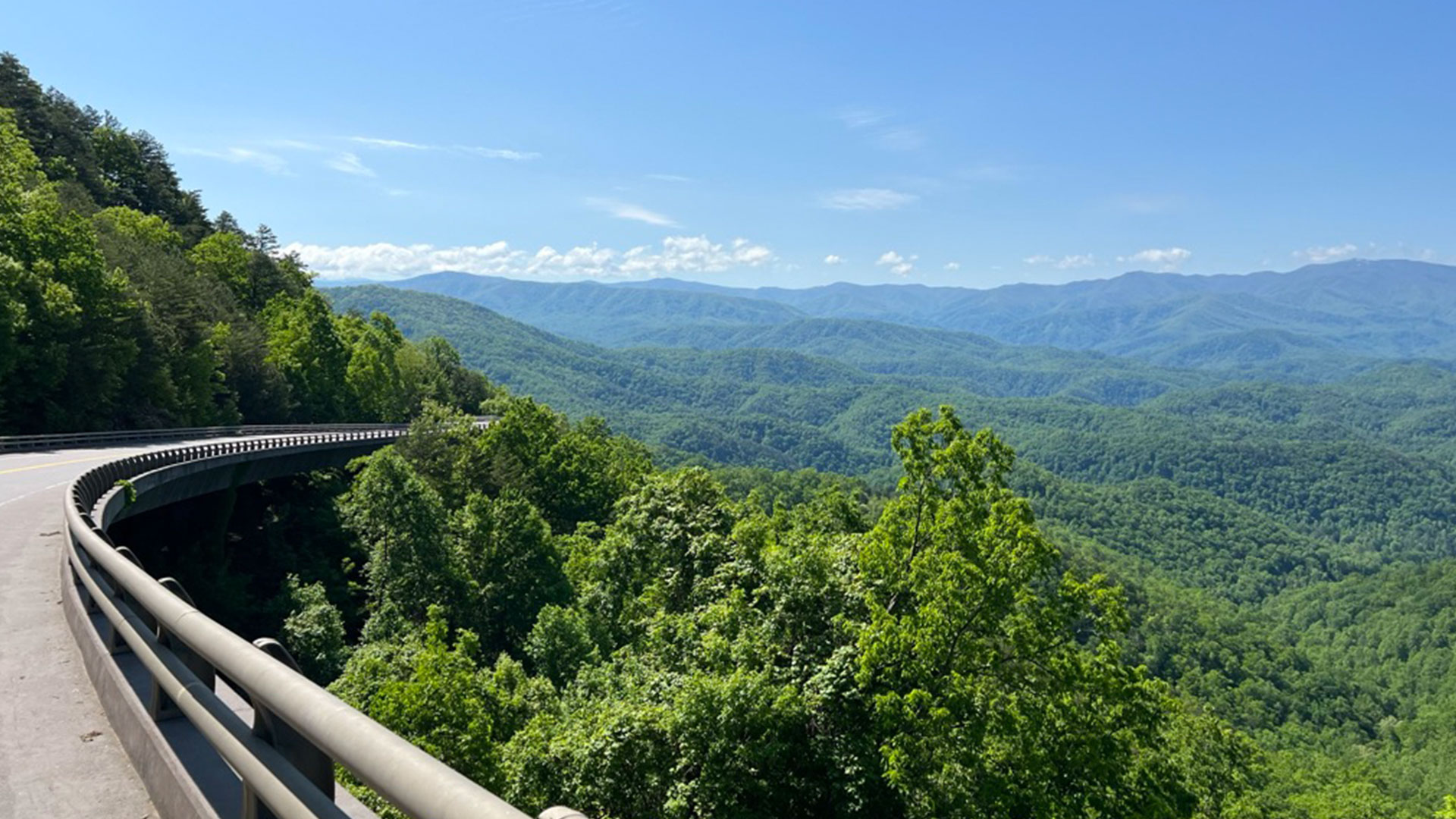 ---
Ride and See
We'll plan to do several medium-length day rides, interspersed with plenty of fun stops to hike, look at beautiful views, and gift shop.
Fun In Gatlinburg

We'll spend the evenings in Gatlinburg having dinner and enjoying the touristy city.
Holiday Weekend
So, it might be crowded because of the long weekend. Just be ready for delays and long waits at restaurants. Maybe.
---
This whole thing is subject to change. Weather, traffic, sleeping in, or whatever. The schedule is rough and speculative. Just go with it.
Sunday, September 3
Just Get there!
---
2PM Leave from The Orchard
Blue Ridge

Murphy

Andrews

Nantahala Gorge

Cherokee

Great Smoky Mountains National Park
5:30PM Arrive in Gatlinburg
Dinner in Gatlinburg
This ride takes a little over 3 hours. Since we're leaving so late, our goal is just to get to Gatlinburg before too late. There is a longer option, below.
---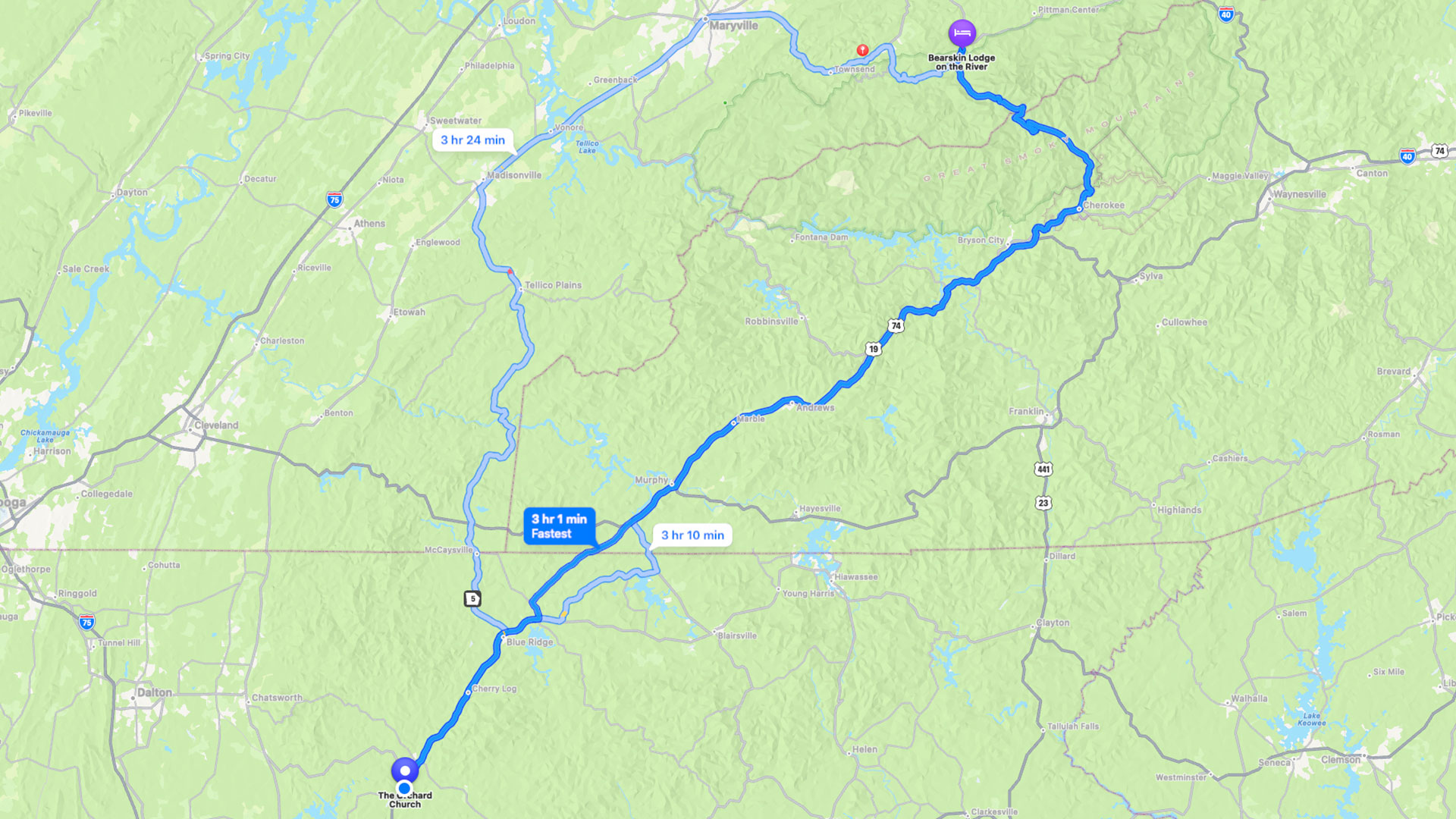 Sunday Longer Option:
---
A very scenic route would take us through Tellico Plains, along the beautiful Cherohala Skyway, and through Robbinsville. I would love to do this route, but it would add around 90 minutes to our ride, putting us into Gatlinburg a little later, but not after dark!
---
---
These are some of my favorite restaurants in Gatlinburg. All are walking distance from our hotel.
LOCO BURRO
A great Mexican restaurant with rooftop seating and a great view!

THE PEDDLER
Off the strip, and great steaks. Extensive salad bar!
CHEROKEE GRILL
On the strip, great environment, great steaks
SMITH & SON
Great burgers, ribs, and shrimp
NEW: JASON ALDEAN
There is already one of these in Nashville. I've never tried it, but hear it is good.
NEW: CUMBERLAND JACK'S
Sister restaurant of my absolute favorite breakfast place, Crockett's
Monday, September 4
Ride the big circle
---
10AM Leave from Bearskin Lodge
Pigeon Forge

Foothills Parkway

Tail of the Dragon

Deal's Gap

Fontana Dam

Bryson City

Cherokee/Oconoluftee

Newfound Gap/Clingman's Dome
5PM Return to Gatlinburg
This actual ride is just over 4 hours long, but I've allowed lots of extra time for lunch and other stops here and there.
---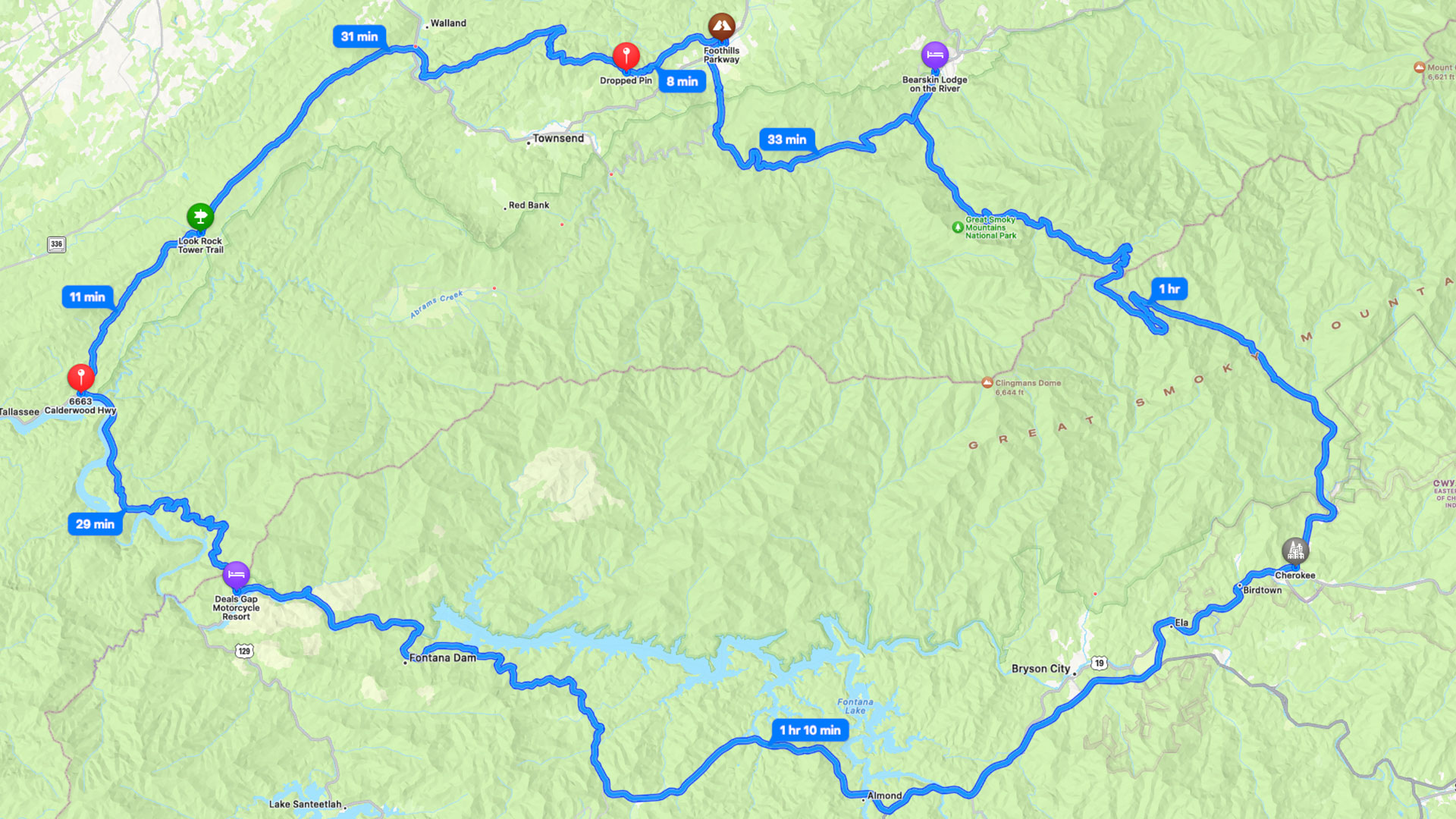 Monday Longer Option:
---
Depending on how late it is, we could explore some of the Great Smoky Mountains National Park on the back end of this ride day if you like. A walk through the settler village at the Oconoluftee Visitor Center, a short hike to Laurel Falls, or a sunset view from Clingman's Dome, the highest point in the park. All of these are great excursions.
---
Tuesday, September 5
Take the Long Way Home
---
10AM Leave from Bearskin Lodge
Cherokee

Moonshiner 28

Franklin

Cullasaja Falls

Dry Falls

Bridal Veil Falls

Highlands (late lunch?)

Warwoman Road

Clayton

Hiawassee

Blairsville

Blue Ridge
5PM Arrive at Home!
This will be about a 4.5-hour ride, but broken up with some great stops! We'll stop for the three waterfalls between Franklin and Highlands.
---