---
---
BUILDING STRENGTH INTO OUR COMMUNITY
CONTINUING IN FEBRUARY, 2022
---
Check out this whole page... There is a LOT here that you haven't yet seen!
- Plans are underway
- Losing the LEAD app
- Series Playlist
- Until Unity Book Links
- Until Unity UPDATED Schedule
- Summer Break plans
- Next Meeting
- Stand Up Sunday Disaster?
This is IT!
Ever since my November study break, my heart has been so heavy for our church to "Build the house." In January, we "broke ground," as I began to call us to "Take A Stand" together.
For six weeks, I have been calling us to this moment, and it is finally arriving.
Now we have completed our "Know God Crash Course," and I am developing the "Christian Worldview" course for later this year. Right now we are redeveloping our deacon group, and raising up a whole new group of men in our Men's "O.G." group.
YOUR ROLE is to develop your group into maturity as they grow closer to God and to each other. That is BUILDING THE HOUSE!! Thank you so much for having a heart for this. I can't wait to see what God does with us through all this!
Losing the LEAD
We've been using Church Community Builder as our church management database for years now. The LEAD app is part of that package. Ten years ago, CCB was the industry leading church management platform, and it has served us very well.
Since a buyout a couple of years ago, that platform has stagnated somewhat, while others have surged forward. One of those is Planning Center, an easy-to-use, comprehensive church management package that we are switching over to. That process is currently underway, and expect to be fully implemented over the coming weeks. That means we will be losing the LEAD app, and instead we will use Planning Center's PEOPLE app. More on that as we make progress.
Our team has already been using Planning Center's "Services" module for years for volunteer scheduling and resources. We've found it to be a super-easy to use tool that our worship team and Celebrate Recovery team enjoys. It makes our work much more efficient. I think you're going to appreciate it.
Response has been good to this extended message series. I hope so! It has really been my passion for the last few months. Since my goal has been to just inundate everyone with resources to help you build the house, I thought it might be helpful for you to have access to this message series. Please feel free to share this YouTube link anywhere you want!
---
Until Unity Group Study
---
Begins week of February 13, 2022
---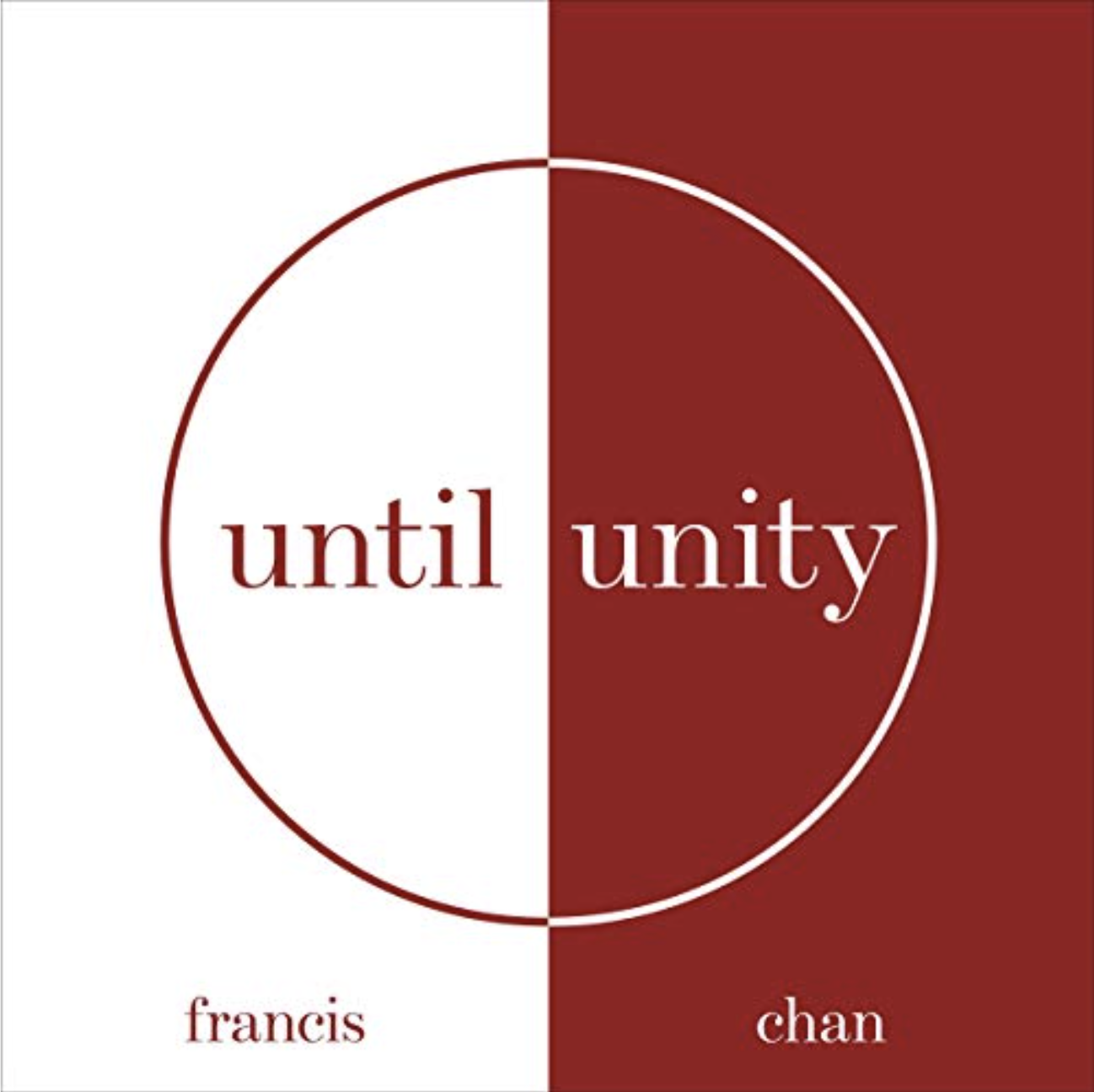 ---
Use this Amazon link to get the book in paper, digital, and audio format.
---
Use this Amazon link to get the study guide in paper and digital format.
---
Use these with your group to facilitate discussion.
---
This study will be in a very different format than usual.
From the Study Guide Introduction:


To get the most out of this study, read the corresponding chapter before you go through each session. Each chapter has a corresponding video that will dive deeper into the topic and then lead into a time of prayer. Each of these resources can stand alone, but they will be most effective together. Most importantly, it is essential for everyone to be reading this with a Bible on hand. Ultimately, the purpose of this study and the book is to point us back to the Bible and cause us to fall in love with God's original design for the Church.
U P D A T E D
Until Unity Study Schedule
Schedule listed by Sunday date. Your group meets during the week on or after each of these Sundays listed.
---
Week of February 13




WATCH:

VIDEO SERIES

INTRODUCTION




Discuss:

lg discussion questions


assign:

book introduction

WEEK OF FEBRUARY 20


Watch:

session 1: introduction


Discuss:

Introduction


Assign:

chapter 1



WEEK OF FEBRUARY 27




watch:

session 2: It's what the trinity wants


discuss:

chapter 1: it's what the trinity wants
Assign:

chapter 2



WEEK OF MARCH 6


watch:

session 3: it's what you want


discuss:

chapter 2: it's what you want


assign:

chapter 3



WEEK OF MARCH 13




watch:

session 4: it's what the world needs


discuss:

chapter 3: it's what the world needs


assign:

chapter 4

WEEK OF MARCH 20




watch:

session 5: it starts with repentance


discuss:

chapter 4: it starts with repentance


assign:

chapter 5
WEEK OF MARCH 27




watch:

session 6: it comes with maturity


discuss:

chapter 5: it comes with maturity


assign:

chapter 6
WEEK OF april 3




watch:

session 7: it survives with love


discuss:

chapter 6: it survives with love


assign:

chapter 7
WEEK OF april 10




watch:

session 8: it requires a fight


discuss:

chapter 7: it requires a fight


assign:

chapter 8
WEEK OF april 17




watch:

session 9: it must start small


discuss:

chapter 8: it must start small


assign:

chapter 9
WEEK OF april 24




no video included




discuss:

conclusion: a return to childlike faith
SUMMER BREAK
We will be doing serious work this season. For the health of our groups, we will reduce to one gathering per month in June and July.
These summer gatherings should be primarily social, and take the form of a cookout, a picnic, or some fun activity for your group to enjoy each other.
The church will be invited into a "Developing a Christian Worldview" intensive for June and July... This is going to be a really important study for us, and we would like to emphasize the importance of this key study for anchoring us to the Firm Foundation!
We will start a new study series together in August.
Until Unity Assessment
After we've had a few weeks to get going on this book study, we'll get together and talk about what is working and what we need to change.
---
TUESDAY, MARCH 15
6:30PM IN THE LOFT
( TENTATIVE )
A Disaster?
As you know, THIS SUNDAY is a H-U-G-E day for us! It is the day we all come together to take a stand... To partner together to build the house. It is a day when we would typically work really hard to make sure everything is JUST RIGHT, as we represent the Body of Christ in the world today.
But remember how I've been talking about the enemy doing everything to knock our house down? It seems that everything might just be falling apart...
Retaining Wall Blowout
The retaining wall that holds up the entry road on our campus blew out all the way back at the beginning of September. You've had to drive around the sinking road since then, and we've been trying to get it repaired. Of course, we FINALLY got people out do do the work RIGHT before Stand Up Sunday... Just in time to really be a disaster at the front of the property for this important day.
The estimate of $30,000 to repair/replace the wall was enough to make anyone sick to their stomach, but now it turns out our soil is bad, and we have to use a different rock/soil mixture to re-fill that area, running our price up to over $50,000!!!! Yikes. We will do our best to not let anyone go to cover this immense, unexpected cost.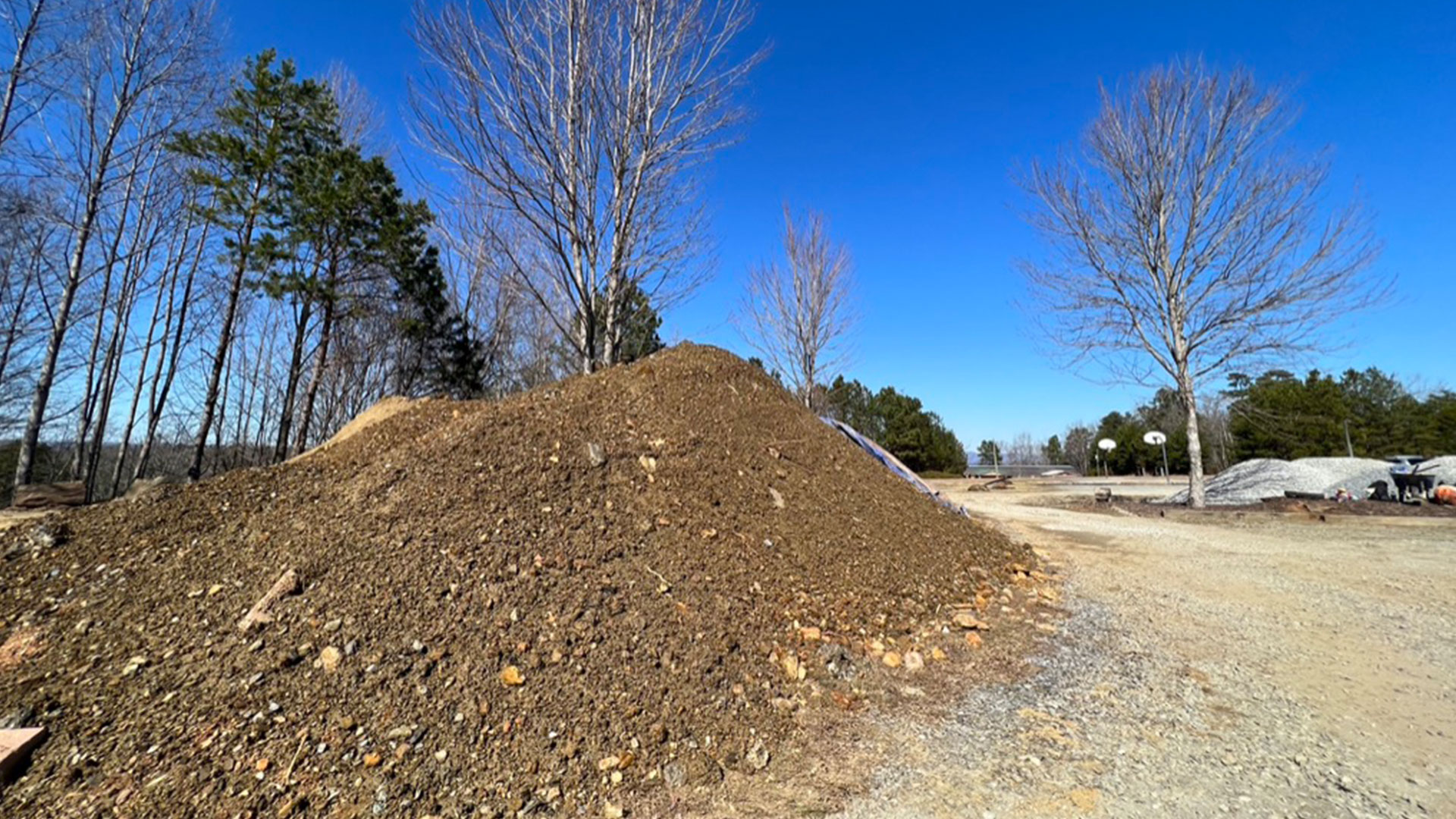 ---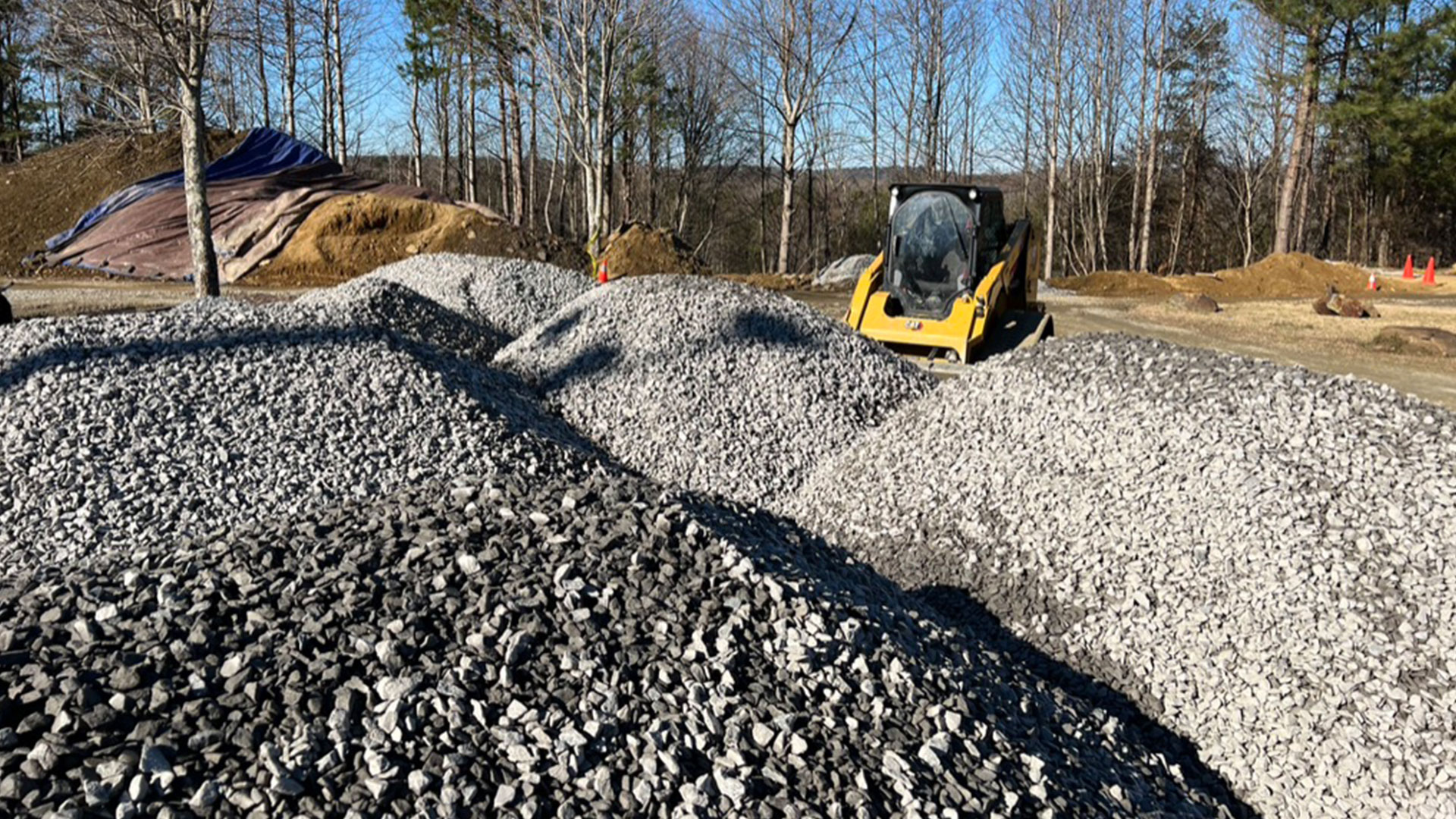 ---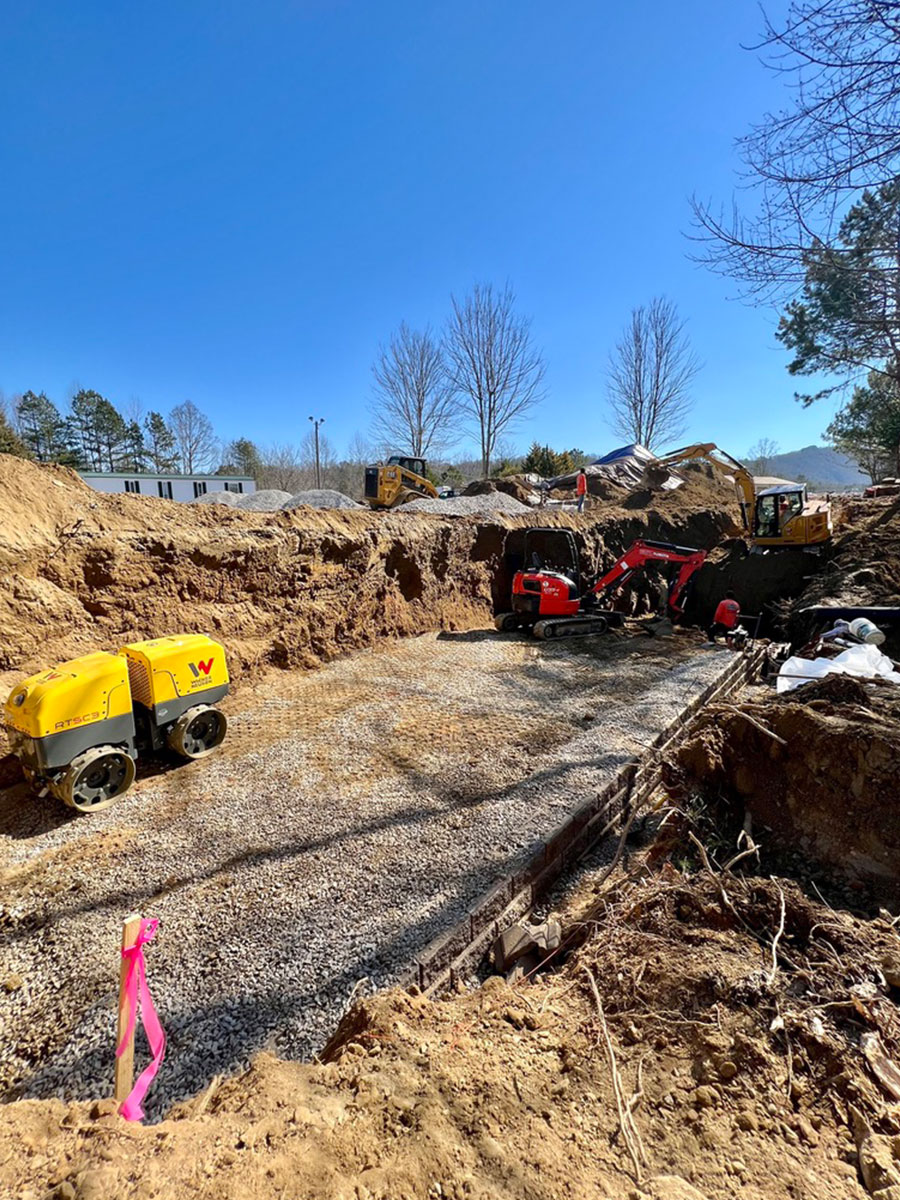 Here's a view of the size of this project... Note the two excavators and three workmen in the picture!
---
Memorial River Runs Dry
Next up, our John Breshears Memorial River pump has gone out. Again. This isn't the first, second, or third time. We have tried this week to make it work with local (TractorSupply) water pumps, but just can't make it work right. A replacement pump will be here in a couple of weeks. In the meantime, we will try to make it run with our baptistry pumps to at least be respectful.
---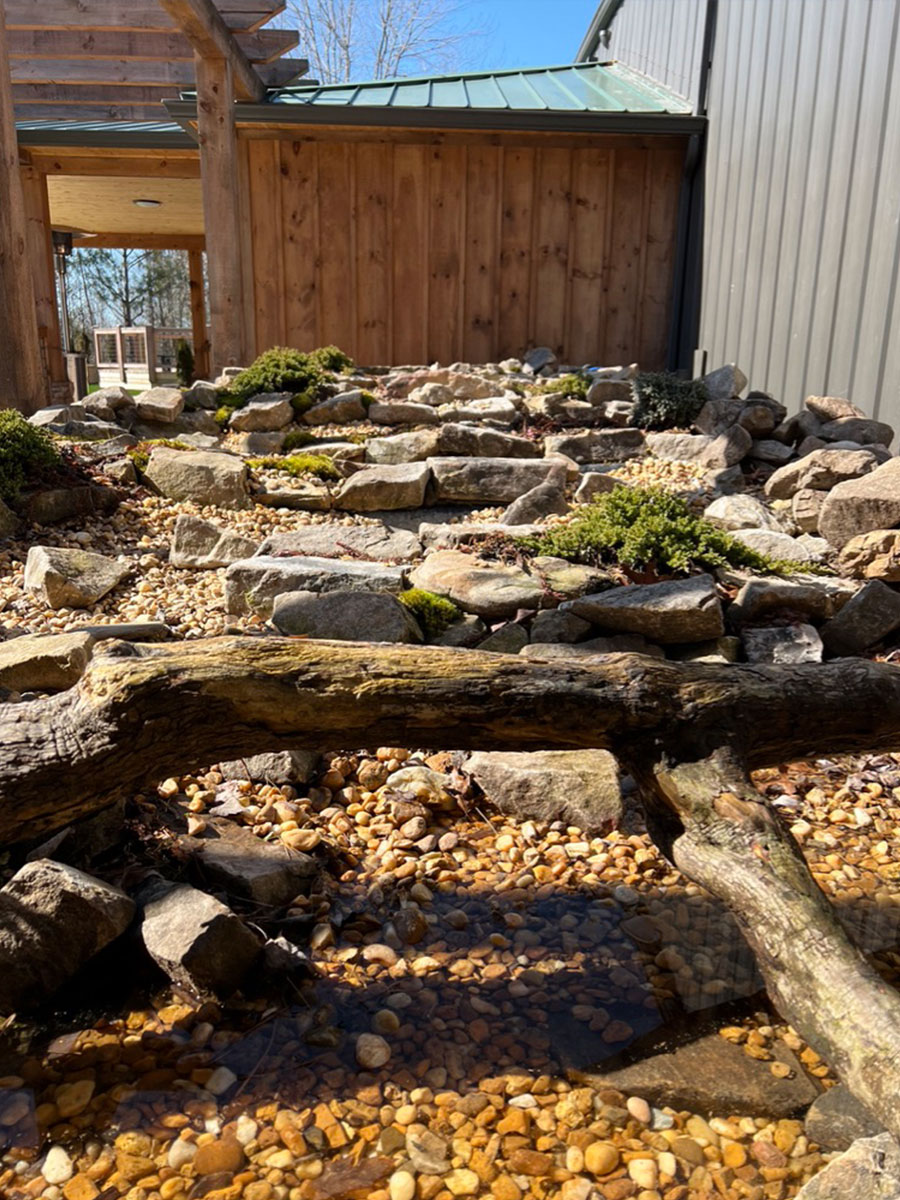 ---
baptism: Overflow only
Since we aren't doing this event at the High School Gymnasium as we've done in the past, we are cramming everyone from both services into ONE hour at 11am this week. Seating will be at a premium! (if you haven't been in the 11am service lately, it is FULL!!!)
To mitigate this, we thought we would put the baptistry outside on the pavilion at the base of our river and show the baptisms live on the big screens in the main room. This would maximize our inside space, and give us a chance to do something a little different and fun.
BUT NOW they are saying that the weather will be COLD COLD this weekend, with a big front moving in. So cold, that I don't think I can responsibly ask people to be outside and wet for that. PLUS, our baptistry HEATER broke, apparently! What???
---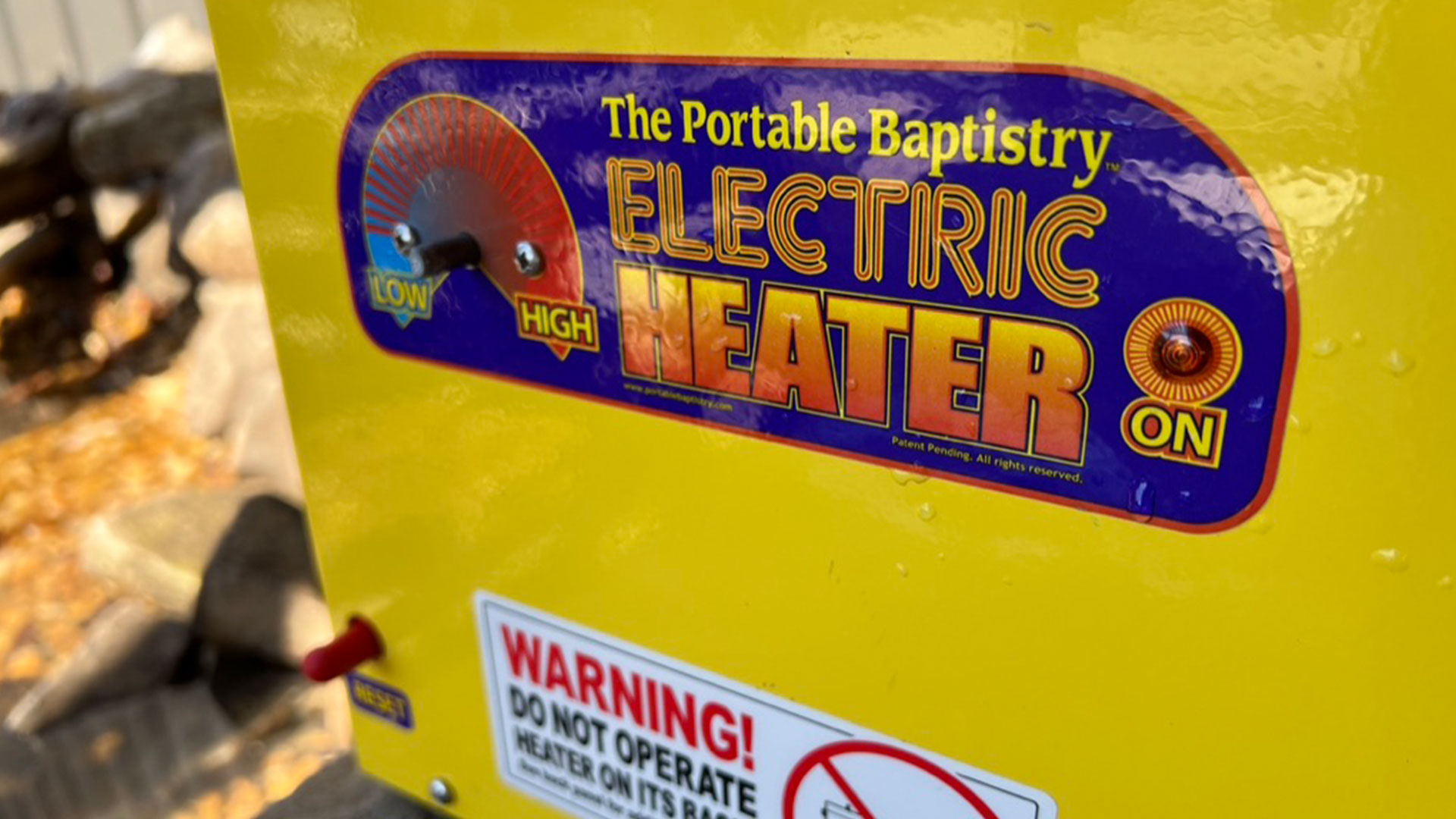 A replacement heater is $700 dang dollars and on a several week shipping delay.
---
So, we can't fit the baptistry inside with everyone, and we can't make the water warm enough to use on this upcoming cold weekend. SO, we scrambled today and I went to Tractor Supply and bought a $250 horse trough, which Larry Lynch sealed today, and Tom Stigler will be painting tomorrow. Larry will buy a couple of immersion heaters for it, and we will have it ON THE STAGE this coming Sunday morning.
---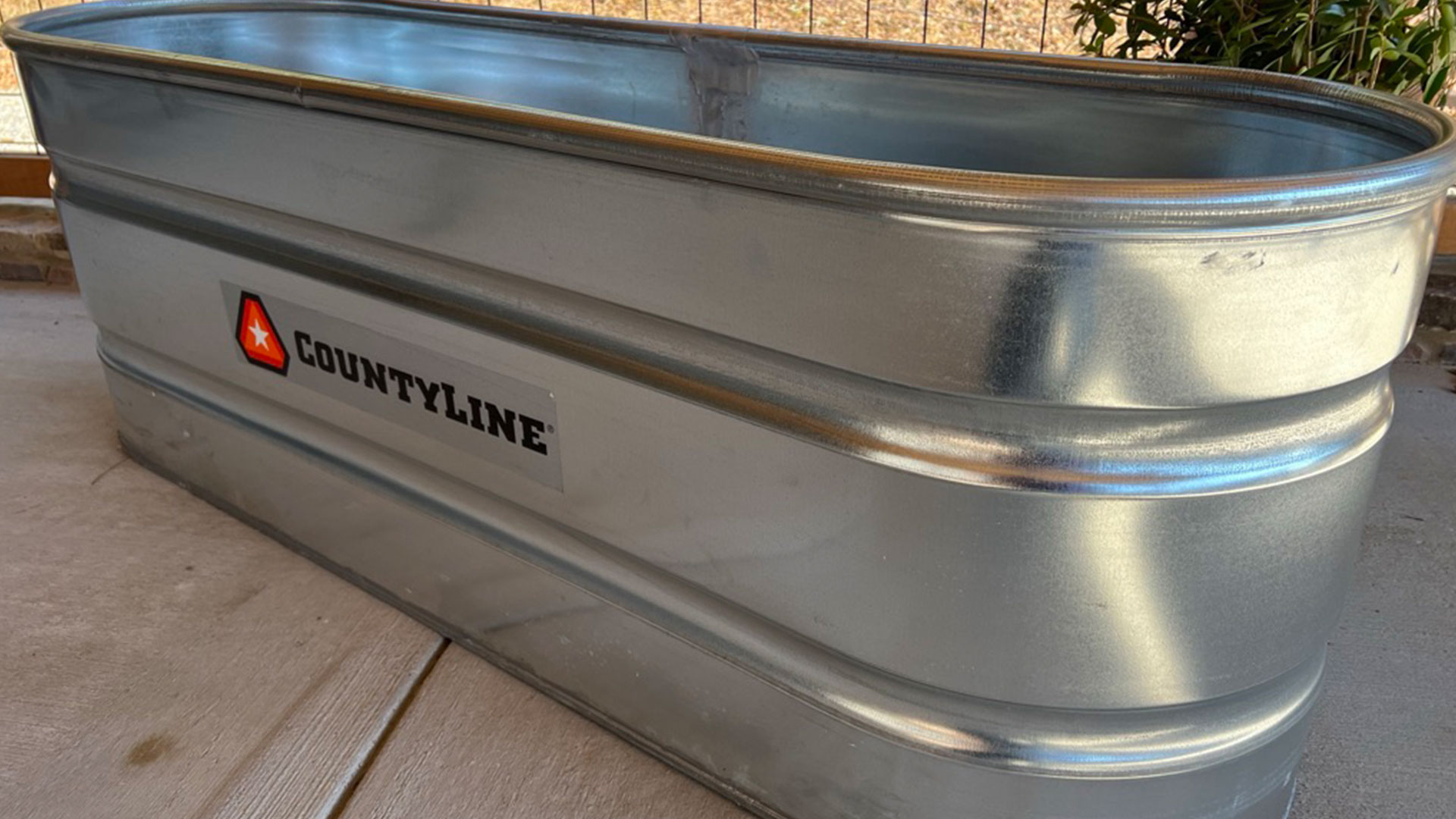 Real cowboy baptisms this Sunday!
---
All this to say that sure... Things might look and feel like something of a disaster. (trust me, it is extremely discouraging for our staff.) It may feel to some degree like our really big day is all falling apart.
It is times like these when I need to step back and look at the bigger picture.
Our church is being extremely intentional to build our house right now

We are developing more men to be leaders than literally ever in our history right now.

After a long wait, we just onboarded our youth/discipleship pastor this past month!

Celebrate Recovery is bursting at the seams, and there were FIVE decisions for Christ there last week!

We are baptizing a dozen people this weekend!
The reality is that God is clearly working here, and since HE is winning, Satan is just trying to tear our house down. He is trying to make us feel defeated and weak.
Satan also wanted Paul to feel defeated and weak. Paul prayed about it, and God's answer was "my power works best in your weakness!" So, Paul had this attitude:
Now I am glad to boast about my weaknesses, so that the power of Christ can work through me. That's why I take pleasure in my weaknesses, and in the insults, hardships, persecutions, and troubles that I suffer for Christ. For when I am weak, then I am strong.
2 Corinthians 12:9-10
So, sure.. There are lots of reasons to feel weak... So we will lean into it! We will trust in God's strength, rather than our own!
All of this is just part of the storm. Our winds are definitely blowing. BUT, we will NOT fall... We will stand. We will proclaim His greatness. We will find strength through suffering, and we will rely completely on HIM!
I am looking forward to seeing you there this weekend, and for helping others get into groups and onto serve teams so we can all be faithfully obedient to God to equip his people for BUILDING the HOUSE!